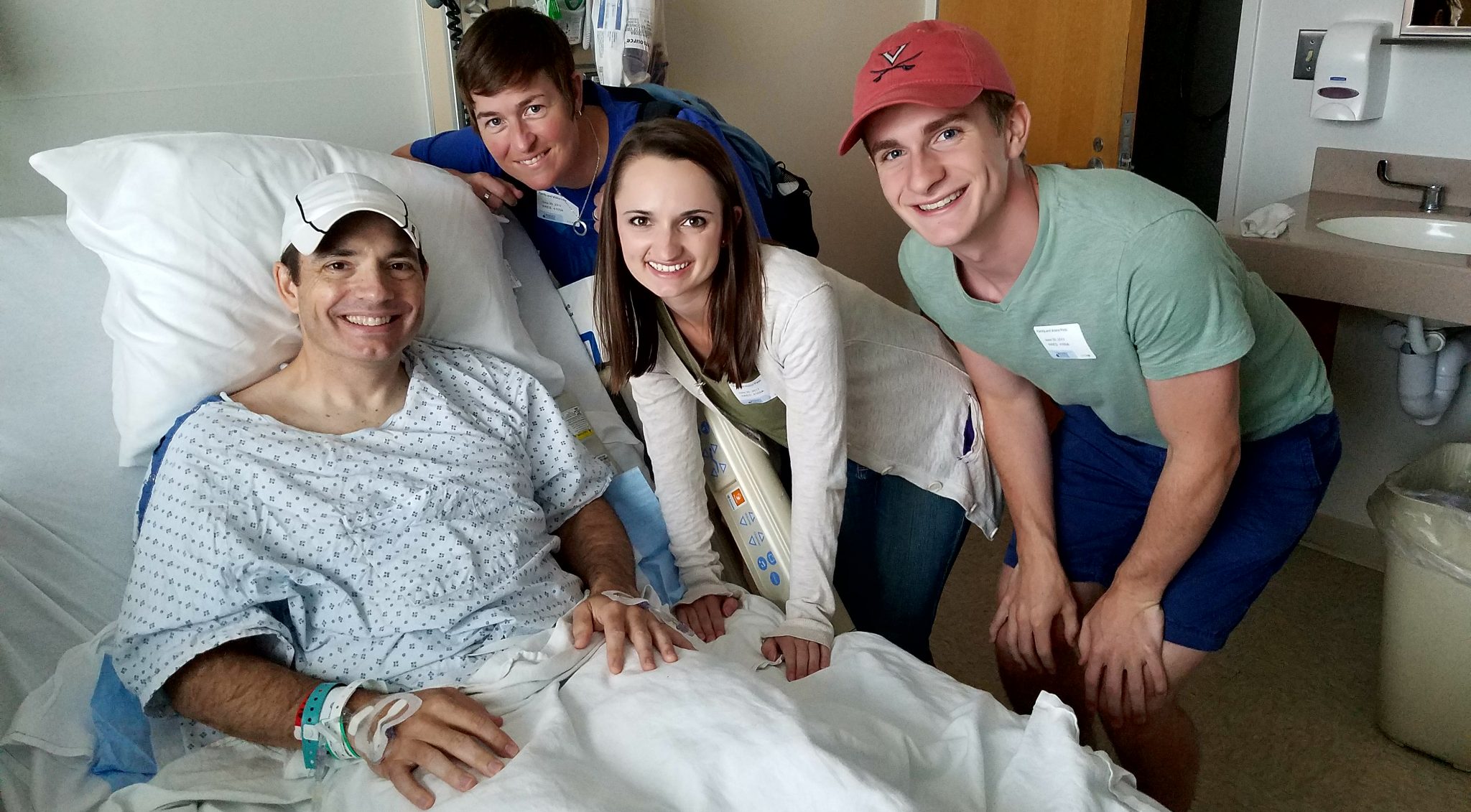 Behind the Streak
Our Story
&nbsp
While some may think streaking is about running around without clothes, Streak Running is about running every day without missing a day. The minimum run is one mile, although many streak runners set a personal minimum that's higher. I ran every day for 763 days until a surgery ended my streak. That surgery was to remove one lobe of my right lung. Imagine my surprise to discover that lobe contained a 7 cm cyst and a 3 cm lung cancer tumor. As a life long never smoker, I had lung cancer. How was that possible? That day ended my streak and changed my life and perspective forever.
A year later, the lung cancer recurred and spread. After a second surgery to remove a portion of my remaining lung for biopsy, I decided to restart the running streak. This time, I knew the challenge would be greater than ever… I'd be running through chemo. On July 15, 2017, two weeks into the recovery from the biopsy surgery, my surgeon and oncologist said it was OK for me to run. So I did. Everyday. Through 40+ rounds of chemotherapy, I ran. Through countless business trips and other commitments, I ran. No matter what, I ran. For 934 consecutive days, I ran.
Eventually all Streaks end. In spite of all the chemotherapy, the cancer was growing again. Surgery was the only viable option to buy some more time. On February 5, 2020, the day after my 934th run, I had most of my remaining right lung removed. We weren't sure if I would ever run again. In the days and weeks following surgery, I walked many miles. A fantastic physical therapist helped me build stamina and maximize lung capacity. Seven weeks after surgery, on March 25, 2020, a new Running Streak was born! I've been running every day since then!
While I hope you find my story encouraging, Streak for a Cure is not about me. In fact, I've met many other cancer survivors who's stories are far more compelling than mine. They hurt every day. They are very sick every day. They still manage to find the positive in life. They inspire me. Their strength and faith drive me to do more to help people who are living with Lung Cancer.
My hope is that you will be inspired to spread the word. It's time for this disease to be funded and treated like all other types of cancer. Its time for the world to know that if you have lungs, you can get lung cancer- smoker, non-smoker or never-smoker. I hope that your faith will be strengthened, as you will witness the power of hope and that will lead you to take action. That action could be checking your own home for lung-cancer-causing Radon Gas. You can like and share our Facebook page and website or following us on other social media. Action could involve giving to Streak for a Cure or some other worthy lung cancer organization or getting personally. We and other lung cancer non-profits are always looking for volunteers. Let us know you are interested and we'll try to leverage your talents.
Thank you for your help in changing the face of lung cancer. Without you, I'm just a crazy streak running lung cancer survivor. With you and your help, we can change outcomes for people. We can make it so a 32 year old mom can see her children graduate high school. We can make it so a 45 year old dad can see his daughter get married. We can make it so that no one has to suffer and die from this disease.
The time for change has come. Streak for a Cure hopes to be a force for change and I hope that you will be a part of that change. No days off until we find a cure! Join the Streak Force today!
–James Hiter, Survivor and Founder- Streak for a Cure, Inc.
Streak for a Cure, Inc. is a nonprofit focused on Lung Cancer education, survivor support and research funding. We are an IRS tax exempt 501(c)(3) organization with an all-volunteer staff and board of directors. EIN 83-3040315. Thank you for your donation and support!
Many organizations do amazing work to help survivors of lung cancer and research to find a cure. These are some organizations that we support and hope you will too. Duplicating efforts isn't helpful. Leveraging the individual strengths of each nonprofit can make a bigger impact. No days off until we find a cure!