What's Next?- 7 Steps to take after diagnosis 
By James Hiter, Streak for a Cure Founder, Survivor and Streak Runner.
(This is the first in a series of articles addressing the steps you should consider taking after a cancer diagnosis. Future articles will explore each point below in greater detail).
After the doctor utters those most feared words, "you have cancer" what do you do next? That was my dilemma back in May 2016, when I was diagnosed with lung cancer. I went to the doctor with the flu and came out knowing that I had a tennis ball sized tumor in my right lung. Because I had never smoked, it was assumed that it was NOT cancer but nonetheless, I was about to have a dangerous surgery to remove an entire lobe of my lung. That set into action a chain of events that could have gone better if I knew then what I know now. Everyone's plan of action after diagnosis will be a little different. Your unique circumstances will require you to tailor your plan for maximum effectiveness. I hope this article will be helpful to you and to those you care about who have been or will be diagnosed with a scary illness.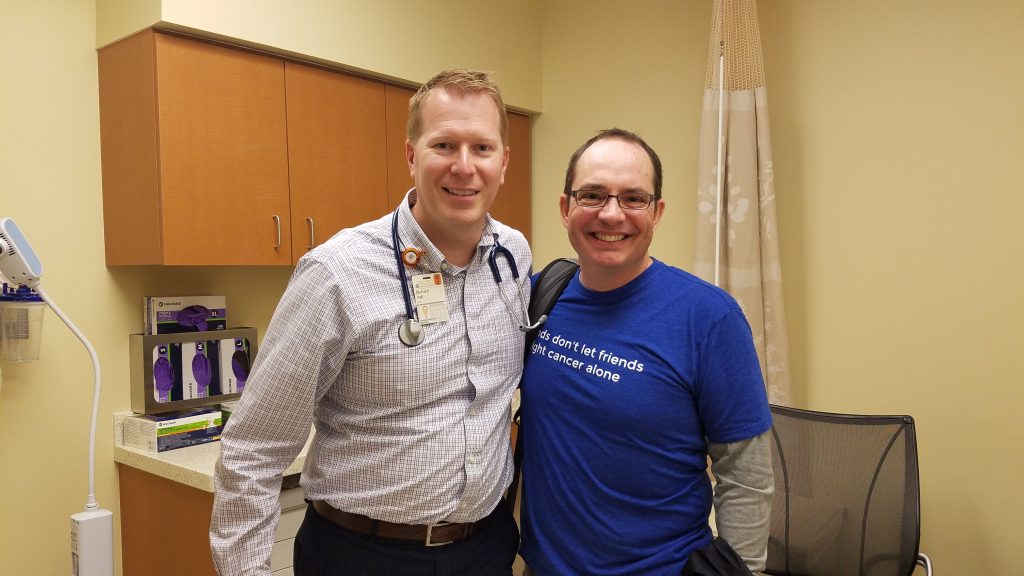 Develop a Communication Plan. It may seem overly formal but I found it helpful to decide WHO I needed to talk with about my diagnosis and WHAT I was going to share with them. I also had to decide HOW I would communicate with them. Because I needed to talk with a lot of people in a short time period, I decided that I would tell people over the phone. I made bullet points about what I intended to tell folks. In my situation, I wanted to be very transparent but I also wanted to be concise. I also didn't want to unnecessarily scare anyone. With a philosophy of no drama, I just wanted to convey facts and a little of how I was feeling. Making an actual list of people and keeping notes from each conversation proved very helpful. When I was finished I knew everyone that was on the list was now in the loop. Later, the list came in handy when I had a progression. I used a modified version of the original list with new talking points.
Understand your work Benefits. Within a few days of finding out that I'd need a lobectomy, I talked with my leaders at work. They encouraged me to connect with human resources. The HR team was very happy to help me learn more about my benefits. The HR folks walked us through several scenarios regarding potential outcomes and how my benefits would work in each. We discussed health insurance, salary continuation, disability and death. It was a sobering but helpful conversation. My wife was a vital part of these calls. She was able to ask questions and make a direct connection with the HR team at work. Her additional note taking was also helpful.
Become a student of the disease. Cancer is complicated. To better collaborate with your doctor, it is essential that you learn as much as you can about your cancer, mutations, treatment options, treatment side effects, etc. The shock of a diagnosis can be overwhelming. Becoming knowledgeable is empowering and allows you to play a role in your treatment plan.
Find a cancer mentor. Having someone who has "been through it" is very helpful. This could be someone you already know or could be someone you connect with through a cancer support network like your local cancer center or an organization like LUNGevity Foundation. My cancer Sherpa was a friend who had been through treatments for a completely different kind of cancer. Later, I connected with a peer who was going through a similar treatment regimen. Because our experiences were more similar, we were able to be of even more help to each other.
Review or draft your will, power of attorney and advanced medical directive. Many of the more radical surgeries to fight cancer (especially lung cancer) are risky. It is important to not be afraid of this but rather treat it matter of fact. I thought about it like this- if I were going off to war or skydiving I would update my will first. As a financial advisor, I had given the advice to update legal documents 100's of times. The reality was that my legal documents were significantly out of date. With the information about work benefits in hand, I reached out to an attorney who expedited the processing of my will and other important documents. My wife and I also confirmed the beneficiary designations on all our accounts. Dealing with all this seemed a little morbid but I knew it was the prudent thing to do. Upon completion, the sense of relief was real and rewarding. Again, it was a way to feel a little more in control.
Consider getting a second or third opinion. It's common to feel urgency to get started with treatment. No one wants to sit back and let the cancer get the upper hand. With that said, it is critical that the best thought has gone into your treatment plan. I love my doctor. He is an amazing human being. But he is just that… a human being. He isn't perfect. He could make a mistake. Most great doctors (even ones with really big egos) will encourage you to get a second opinion. Also, most medical insurances will pay for it. After my recurrence, we were considering a pneumonectomy (complete removal of a lung). I quickly jumped on a plane to consult with another major lung cancer center. After that, my wife and I drove to another lung cancer research center for a third opinion. Some of the decisions you will make are irreversible (like a pneumonectomy). It is so important to get it right the first time. One word of caution, second opinions can also be confusing. Try to get all the second opinion doctors to coordinate with your primary oncologist. It is important to get everyone on the same page for your benefit.
Find a develop a spiritual/support network for you and your caregiver. You are starting to deal with some very serious issues and decisions. You will be physically and mentally and emotionally challenged. I found my family, work family and church family to all be very important. Each group helped me in slightly different ways. They all came together to allow me to feel loved and supported. How ever you find support, it is vital that you not face this alone. Surround yourself with people that can help you focus on getting better. Everyone will be asking about your physical health. You need to make sure your emotional, spiritual and mental health remain strong and positive too! I know some people who have a negative feeling about "thoughts and prayers." However, I found it very comforting and helpful when people told me they were thinking of me and praying for me. Those thoughts and prayers continue to contribute greatly to my positive attitude. Bottom line- you and your caregiver are going to need support.
You are facing some stuff that you have likely never confronted before- your own mortality. First take comfort in the fact that every human is terminal. That may sound brash or uncaring or even morbid but I believe being diagnosed with a terminal illness has been a huge blessing. Many people are killed on the highway every day. They exited without the opportunity to have important conversations, prepare legal documents or check items off their bucket list. No matter the severity of your prognosis, you have been given the gift of time to prepare for what's next. I encourage you to make great use of this gift. It is important to have a long-term view (optimism) with a short term since of urgency (realism). That combination has served me well.
If you found this information helpful or believe other will benefit from reading it, please share it. Watch for a separate article on each of the above topics. Each topic will include links to additional resources and/or practical things I've used or created along the way. We plan to release these articles weekly over the coming months. Feel free to share this information and our resources page with anyone (regardless of type of cancer).  I hope you and they will find this helpful.
According to the National Cancer Institute, there were 1,735,350 new cancer diagnosis in the US in 2018. Of them, 228,000 were diagnosed with lung cancer (or about one every 2.3 minutes). 433 people die every day from lung cancer. If never-smoker lung cancer were its own disease, it would be in the top 10 of cancer killers. Please consider donating to Streak or some other lung cancer charity. Here at Streak we are working to change attitudes and beliefs about lung cancer and fund research toward finding a cure. Together we can end the stigma and find a cure! #nodaysofuntilwehaveacure. www.streakforacure.org.